Our Visions, Aims and Values
We endeavour to create an environment based on Christian principles, where every child can flourish and achieve, supported by the best efforts of all those involved in the school and local community.
Our vision is to enable all children to achieve their fullest potential in a supportive environment. Our children often say that "school feels like a family" – a reflection of the values of cooperation, support, acceptance and friendship that we seek to promote.

Our vision statement is as follows:
We want the best for each member of our school–learning and growing through Christian values, gladly working in partnership with each other, with home, church and the community–guided by the hand of God.
This is underpinned by the biblical verse: Be strong and courageous; do not be afraid or discouraged for the Lord your God will be with you wherever you go. (Joshua 1:9)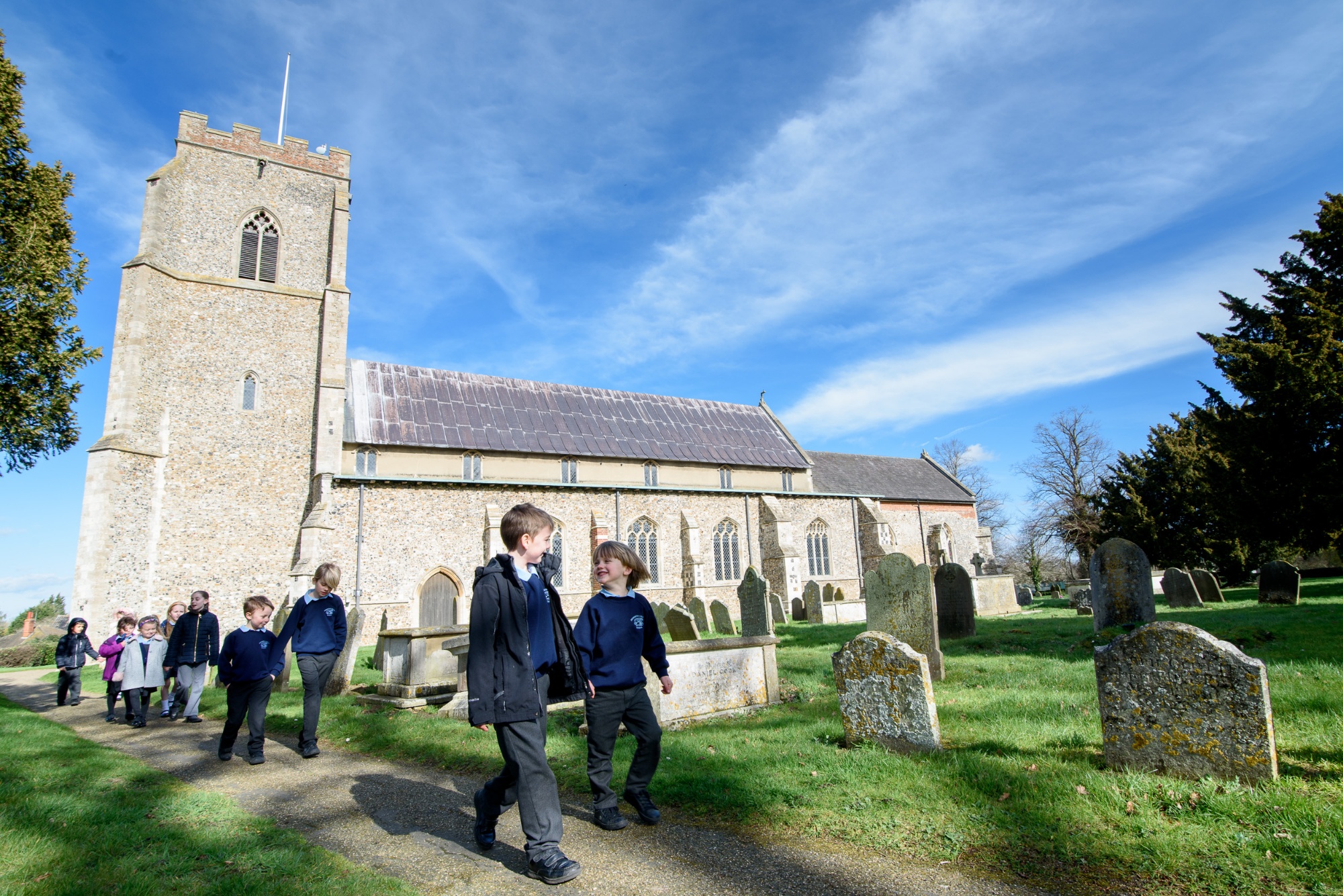 In our latest SIAM report (March 2019), the inspector noted:
The school's distinctive Christian vision shapes its partnerships which enable pupils to flourish. The strong links with local churches have supported the school in raising its Christian distinctiveness.

Pupils' behaviour and attitudes to all that they do show a living out of the school's Christian vision and values.

Leaders' perceptive understanding of the school's context has resulted in a range of opportunities for pupils to be courageous and widen their horizons.

Religious Education (RE) and collective worship make a valuable contribution to pupils' understanding of the biblical roots of the school's Christian values and their relevance in the everyday life of the school.
Our School Aims are to:
Maintain a caring family ethos
Nurture children's moral and spiritual development
Afford equal opportunities for all
Develop awareness of self and sensitivity to others
Offer broad and rich learning experiences, differentiated to meet the needs of each child
Promote positive relationships between home, school and the wider community
Foster self-esteem, confidence, self-discipline and co-operation
Care for each child's health and happiness
Provide a stimulating learning environment
Help children to become independent learners
Encourage children to recognise and value achievements
The school is supported by a proactive parent body PTA (the Friends of Dennington School). Parental support and commitment to the school is excellent, as shown by attendance at parents evening, parent assemblies and services, productions, PTA events (e.g. discos, fairs, quiz nights). We have a strong belief that our children should be prepared for life in modern Britain and give opportunities and experiences to broaden our children's diversity and global outlook (e.g. Multi Faith Days, Watoto Visit and we also sponsor a child in Africa). As a Church of England school, we promote Christian values of kindness, tolerance, inclusion and support for all.
Key to our educational philosophy is the triangulation between school, home and child. We are committed to encouraging parental involvement throughout every child's time with us and recognise that supportive relationships between school and home make a huge difference to a child's learning experience.